Eoin O'Broin: Consultant Plastic Surgeon, Cosmetic Surgery Ireland
Check that your choice of surgeon is on the specialist register of the Irish Medical council . There are quite a few surgeons practicing cosmetic surgery who are on the register but do not have the qualifications to be on the Specialist register.
Your  choice of plastic surgeon should have been trained in a recognised training programme under the control of the joint royal colleges of surgeons of Ireland and Great Britain. There are 'cosmetic surgeons'  who have no recognised or formal training!
Ideally your choice of surgeon should be a consultant plastic surgeon appointed to a university teaching hospital working and living in Ireland, as opposed to  a doctor who flies in and out of the country to do operations. Hiring doctors to fly in for surgery is common practice in some of the cosmetic clinics.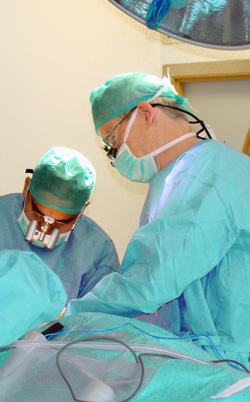 A fully qualified Plastic Surgeon will have passed the intercollegiate final exams and have the letters FRCS(Plast) as part of his official qualifications.
Your consultation should be with your plastic surgeon so he or she can explain a procedure based on personal experience and not with a nurse practitioner.
Your choice of surgeon should be a member of the well-recognized and honourable associations which have strict entry criteria such as the plastic surgical associations in Ireland and Britain? (IAPS, BAPRAS, BAAPS).
Your care should be undertaken by a plastic surgeon who is proud of his own practise and conducts this in a compassionate and ethical manner. This may not be the case with some of the clinics or companies whose primary aim is financial gain and who pay doctors to do operations?
Your surgery should be performed in a safe environment such as a University hospital, with consultant anaesthetists and well trained support staff.
Surgery goes well most of the time, however when there are problems you need quick access to your surgeon and hospital services and a commitment to aftercare. In some clinics, you may be followed up by a number of different surgeons/nurses who don't really know you and may not have the resources to solve your problems.
Cosmetic Tourism
Travelling abroad to have cosmetic surgery in a country where healthcare is less expensive, carries significant risks.
We have seen a large increase in serious complications from surgery abroad. These patients arrive back in Ireland and expect the Irish healthcare system to resolve their problems, sometimes at huge expense to the taxpayer!
We have seen multiple cases of serious post-operative infections, causing wound breakdown, loss of implants and in a few extreme cases, loss of life. We strongly discourage people from having surgery abroad, the risks are really not worth the money saved.